Banana cream pie murder
Book
2017
After an extravagant honeymoon, Hannah's eager to settle down in Lake Eden and turn domestic daydreams into reality. But when her mother's neighbor is discovered murdered in the condo downstairs, reality becomes a nightmarish investigation. Victoria Bascomb, once a renowned stage actress, was active in the theater community during her brief appearance in town ... and made throngs of enemies along the way. Did a random intruder murder the woman as police claim, or was a deadlier scheme at play? As Hannah peels through countless suspects and some new troubles of her own, solving this crime - and living to tell about it - might prove trickier than mixing up the ultimate banana cream pie.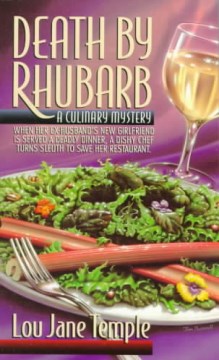 Readers who enjoy cooking mysteries with recipes will enjoy these cozy mysteries that feature feisty single women. The funny stories revolve around these likable chefs, their friends, and their love lives. The description of food is mouth watering. -- Merle Jacob
Hanna Swensen of Lake Eden, MN and Corinna Chapman of Melbourne, Australia are bakers par excellence who find themselves enmeshed in crime investigations. Likeable, courageous, and intelligent women, both detectives serve up delectable recipes along with some danger. -- Katherine Johnson
These gentle, culinary-themed cozy mysteries star professional bakers who moonlight as amateur detectives. Upbeat and leisurely paced, both series offer quirky characters, small-town locales, and tasty recipes -- although the Charmed Pie Shoppe Mysteries also include a sprinkling of magic. -- Gillian Speace
If you like recipes with your cozy mysteries, give these engaging series a try. With amateur sleuths that run small culinary businesses -- a chocolatier (Chocoholic) and a bakery (Hannah Swensen) -- food is often mixed with murder. -- Melissa Gray
These cozy culinary mysteries star restaurateur Charly Poisson, who cooks French cuisine and bakery owner Hannah Swensen, who makes Scandinavian-style cookies. Suspenseful and upbeat, both series follow their amateur sleuthing while offering tempting recipes at the end of each novel. -- Mike Nilsson
Both are culinary mysteries with main characters who are both chefs and amateur detectives. The Hannah Swensen Mysteries are lighter in tone, but both series include side plots that focus on romantic entanglements, family, and friendship. -- Krista Biggs
The Teeny Templeton and Hannah Swensen mysteries are cozy stories that center around cooking. The young women sleuths own bakeries in small towns. The leisurely paced stories are filled with recipes, cooking information, loveable quirky characters, humor, and romance. -- Merle Jacob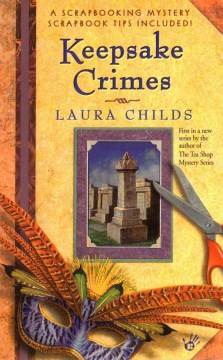 Both cozy mystery series feature a female amateur detective, light humor, and women's friendship. The protagonists' full-time jobs and familial relationships provide a respite from crime-solving. Both provide recipes, and the Scrapbooking Mysteries also include scrapbooking tips and ideas. -- Krista Biggs
The Cupcake Bakery and Hannah Swensen mysteries are culinary cozies featuring women bakers in small towns. The light toned books have engaging sleuths and quirky secondary characters. The fast paced stories have recipes and baking lore built into the narratives. -- Merle Jacob
Reader Reviews
★★★☆☆ Better Than The Christmas Caramel Murder (Staff Re
By Patron43269 on Sat, 11 Mar 2017 09:55:10
So Fluke managed to follow my advice and do better than the last title in this series. It's still not stellar writing, but at least it's an improvement and the story is enjoyable enough. Hannah and Ross are just completing their honeymoon when a murder investigation arises back home. Between trying to solve the crime and both of them working busy jobs, the newlyweds have little time together and Hannah feels uncertain of all Ross may be thinking and feeling. This sets the novel up for a bit of a surprise ending and - gasp! - another book to come (#22). Maybe it's time to give it a rest? On the other hand, many readers look forward to all those delectable recipes that are included with each story. Most of which I won't personally make as they're so unhealthy. Just my opinion. ~Susan, Waterloo Public Library
Professional Reviews
There are no professional revews for this title.
Additional Information
There is no additional information for this title.